This will not be your ordinary wedding!! No bachelor party, no bridal shower, no catering, NO tin cans or decorations on our car! This is a celebration of our 12th anniverary and on-going committment to eachother.
ATTIRE
Remember that it will be hot, so first and foremost, dress comfortably. The celebration will be in the garden. Attire will not be formal but dressing up is O.K. too. The groom will most likely be wearing shorts, so hopefully that sets the standard for everyone!
---
HAIR
Don't worry about your hair! And if you are anyway, but couldn't possibly see how you would safely get it here in tact, you could see John or Odessa at Hair Extraordinaire here in Olympia. They are convinced that visitors will need hair done THAT weekend and claimed they would offer a special rate. Not sure if that means higher or lower than normal. 360-754-7455 Located at 712 E. 4th Ave.
---
MEDIA
We will not be videotaping the event; we would rather use our built-in cameras (our memories, not a surveillance system) and enjoy the moment. We will be taking pictures before and after the ceremony so bring a camera if you are inclined.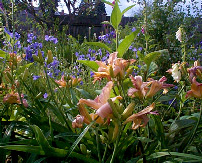 GIFTS
We really don't expect anything, but if you feel you must, go ahead and visit our information-sharing on-line gift registry.
---
"POTLUCK" CATERING
You might be wondering exactly what that means and what you might be expected to bring. Go to the Food Details page to find out.
---