This is a potluck wedding reception.
You are one of the caterers!

We will be providing our favorite grilled bits like Turkey Cranberry Sausages, Shish-kabobs, Jerk Chicken. You bring the rest of the goodies. We can do food coordinating through the website or just bring something. It always works out in the end.
There will be plenty of Special Drink (a refreshing combination of real apple cider and sparkling water) flowing in the Champagne Fountain.
We do not expect out of town guests to bring food, you get to help with the set up and the dishes!!! (Someone has to keep Felicia from trying to do them all!)
Check out the sketch of our dream cake at the bottom of this page.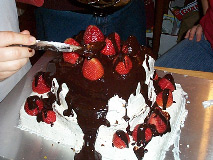 Photo of rehearsal potluck cake made at the 3rd annual Potato/Chocolate party in May
CAKE
Our cake will be a "potluck cake" and will be created Sunday morning. Our friend Zeek is the master cake chef and will be assembling some sort of creative masterpiece from the layers that everyone brings. I am sure chocolate will be involved! Raoul is hoping for a castle with a moat.
If you want to get in on bringing a layer, let Zeek know. His number is 360-943-6813. Layers must arrive at Jill and Raoul's by 11:00am on Sunday.
Cake Instructions:
All layers must be either 8" round, 9"x13" or cup cakes. All layers must be complimentary with chocolate! All cakes must be baked with a wax paper bottom so removing them from the pan is easy. All cake bakers will get a phone call from Zeek the cake meister to coordinate sizes, quantities and details.